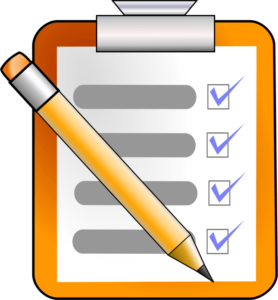 How to Prepare Your Files for Print
We Believe the most important step in getting your files ready for printing is to make sure everything has been proofread and all final edits have been made. This short guide on how to prepare files will help to ensure that there will be no extra costs to your printing project for making corrections after proofs have already been made.
That being said, there are several questions to ask yourself before sending your files to Penmor for printing.
Is my document built to the correct final page size? 
If your project's final size is 8 1/2″ x 11″, the files document size should also be 8 1/2″ x 11″. If this project has images or objects that go to the edge of the final trim, those images and/or objects should extend past the edge of the page by at least 1/8″. This will ensure there is no paper showing at the edge of your final trim. This is the "bleed" area.
Am I using the best quality images possible?
Sometimes you may not be able to use high resolution images, but whenever possible you should make sure that all of your linked images are at least 300dpi and placed in your document at 100% of original size or less. Any images that are less than 150dpi will be flagged and you will be questioned whether or not they are alright to use.
 Are all of my images linked to my document properly?
When you place an image into your document, that image can sometimes be moved to a different location on your hard drive. This can cause your document to contain unlinked or missing images. Always make sure the links in your document are current and keep those images in the same folder on your hard drive for easy tracking.
 Am I including all of the fonts necessary to print my job?
It is very important to include all of the fonts used in your document when sending Penmor your files. This will ensure the type in your document looks exactly like it does on your screen when you get your proofs.
Depending on which layout program you are using, there are tools built into those programs to help ensure Penmor gets all of the files we need to reproduce your project. Adobe InDesign has a Package feature that finds all of your fonts and images and puts them into a location, that you specify, to easily organize all of your files for transfer.
Our Prepress department is well versed in all of the most popular layout and design software and can help you with any questions you may have.
Penmor's prepress department operation is capable of processing all of your jobs in a variety of computer programs.  Whether you are working from a Mac, PC, updated, or outdated software our prepress department's file management is versatile.  Files are pre-flighted to confirm proper bleeds, image resolution, and size specs to ensure you a quality product without compromise.
We are G7 certified and offer digital proofing, as well as Epson color proofs that are calibrated to our presses so you see your color first hand before the job goes to press.  Our prepress department's keen eye and attention to detail is the first step in creating the quality products that Penmor is known for.
Penmor is Maine and New England's premier digital and offset printer of publications, collateral, posters, cards, catalogs and annual reports for education, fine arts, financial and commercial clients. Based in Lewiston, Maine, we offer high quality printing, sign printing, mailing and fulfillment.